This is the second installment of "Monthly Mindstorms," a new series of posts that will summarize the most important news in Mindstorms NXT of the month. News will be organized into the following categories: general news, new sensors, MOCs, and maybe some more that I will add later. Enjoy!
General News
Sept 7th: The Mindstorms NXT Annual Online Competition
Maersk Fan is hosting the first ever Mindstorms NXT Annual Online Competition, judged by himself, nxtstep101, and idkwhoyouare. Head over to Xander's article at the via link below to find out everything you need to know on a single page, and hit up the source link to submit!
Sept 8th: EUREKA! Problem Solving with LEGO Robotics
Daniele Benedettelli over at The NXT Step reported that Claude Baumann has just released a new Mindstorms NXT book called "EUREKA! Problem Solving with LEGO Robotics." See the source link for more information and sample content.
Via: The NXT Step Source: ntspress
Sept 8th: RobotC v3.50 released (and 3.51 the 22nd)
From the RobotC blog:
The ROBOTC Development team is proud to announce that ROBOTC 3.50 for the LEGO Mindstorms, VEX Cortex and PIC, Arduino, and Robot Virtual World platforms is now available! The new ROBOTC 3.50 update is free-of-charge for ALL existing ROBOTC 3.0 license holders.Download today and try out all of the new features and enhancements available in ROBOTC 3.50!
Check out the source link for the changelog.
Source: RobotC Blog
Sept 24th: Control a NXT Robot with Android and HTML5
The NXT Step published an article about Wolfgang Beer's Android + HTML Mindstorms NXT controller.
Source: The NXT Step
New Sensors
Sept 11th: HiTechnic Force Sensor
HiTechnic will soon ("early October" to quote the source link) release an awesome new sensor: the HiTechic Force Sensor. Xander reports that it's super easy to program, gets very precise readings, and will give you some very useful data. Hit up the source link fo moa.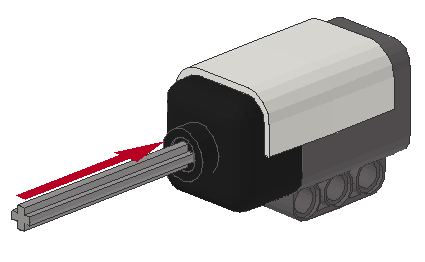 MOCs
Sept 1st: LEGO Mindstorms NXT 5-axis Robot S750
This assembly robot by akiyuky is awesome! In the demo video, it stacks four colored blocks together to put together a chair. The machine features five axes of movement, and builds the chair with surprising accuracy and speed. Check it out below.
Source: akiyuky (YouTube)
Sept 4th: Segway with Robot Driver
Laurens Valk, creator of the NXT Discovery Book and Inventor's Guide, has done it again! This time, he released an awesome segway, with the Alpha Rex as its driver!
Source: Robot Square, Laurens200 (YouTube)
Sept 17th: Great Ball Contraption
Even though this isn't all Mindstorms (it does have an NXT partion), it's oh so awesome:
The video actually went viral, and now has over five million views.
Source: akiyuki (YouTube)

Sept 20th: The People Behind Cubestormer
The NXT Step reports that the people behind Cubstormer (that awesomely fast LEGO Mindstorms NXT rubik's cube solver) have published a writeup on their project. See the source link below.
Via: The NXT Step  Source:  Arm Blog
If you'd like your stuff featured here next month, or if you think there's anything missing from this month's post, please contact me on my Google+ or my Twitter (sending me a story does not guarantee that it will be in the post).